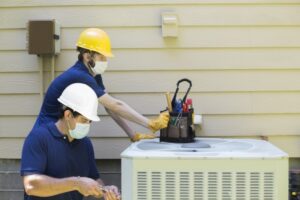 Maybe you think something like this is out of your control. HVAC systems account for half of all energy use in a home, so how could you possibly use yours efficiently? Is this an oxymoron?
No, not at all! The truth is, many homeowners in our area are not using their air conditioners as efficiently as they could be, and as a result, they're paying a lot more than they should have to on their utility bills.
Now, one of the ways to boost efficiency is going to cost a little money–but it's less costly than having surprise breakdowns or inefficient system operation. And that's maintenance. Every year, you should have air conditioner maintenance professionally done. It allows us to fully inspect, clean, and adjust the components that need it to help boost system efficiency.
But there are other steps that don't cost you anything at all or at least only cost you pennies, to implement. Read on as we uncover what they are!
Increase the Temperature on Your Thermostat
We get it, this advice sounds odd right? But the truth is, many homeowners are running their air conditioners at 71°F right when they get home after a long day outdoors, hoping that it will help their home cool down faster. The truth of the matter is that all it does is force your air conditioner to run longer, and that's where the energy waste is happening.
It's better to run your air conditioner around 78°F all day–not only is the average person perfectly comfortable at this temperature, but your compressor also won't have to run in such long intervals to try to keep your home cool.
This saves you energy and money, plus it decreases the level of wear and tear on your air conditioner too!
Use Your Ceiling Fans
Now it's true, your ceiling fans cannot lower the temperature of the room they're in. This doesn't mean your ceiling fans are useless, though! In fact, when used in combination with your air conditioner, there very useful.
You see, your ceiling fans help to better distribute air throughout the space they're in. So this means when you're using your air conditioner and your ceiling fans together, you'll feel cooler as you have more airflow on you, helping you to evaporate sweat and cool off. This means that like the tip above, you can turn your thermostat up a few degrees and save energy.
Be Sure to Change Your Air Filter
The air filter that comes with your HVAC systems is in place to protect those systems from dust, dirt, and other debris that can get inside and damage their components. When it gets too blocked up with debris, it restricts airflow. As a result, your air conditioner has to essentially "work harder" to do its job, which is inefficient.
Your air conditioner's filter should be changed or cleaned every 1-3 months for optimal system use.
For reliable Loganville, GA HVAC services reach out to Wall Heating & Air Conditioning today!