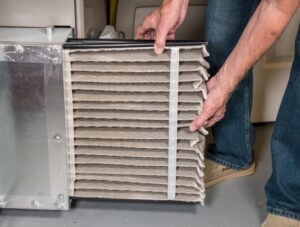 If you're utilizing a furnace for your home comfort in the winter, then you know just how nice it can be when the system kicks on and provides you with all the heat you and your family need. But if something goes amiss with your heater, it can be panic-inducing. Sure, we don't have to worry about temperatures that get too arctic in our climate, but compared to our summers, our winters get pretty darn cold!
Fortunately, there are steps you can take to avoid too big of a furnace problem. We don't expect you to understand fully how a heater works, and we don't even recommend making repairs on your own, but there is one little thing you can and should be doing to keep furnace performance at its best–and that's changing out the air filter every 1-3 months.
Homeowners often minimize, or just don't know, how important it is to change their furnace air filters on a regular basis, thinking they really only need to be swapped out each year during furnace maintenance. But failure to change out this filter can have some pretty negative consequences.