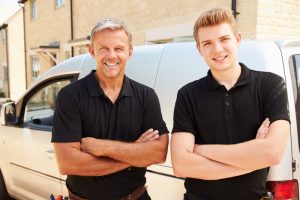 It's that time of year again—there are two seasons where HVAC professionals are the busiest. Winter, and summertime.
With summer here now, it's the most common time we'll get called for urgent repair sand services—perhaps even a "quick" replacement (spoiler alert: no air conditioner replacement should ever be rushed).
As the temperatures start soaring upward, it is inevitable that homeowners will run into cooling system problems, especially if their systems are aging or have not been maintained properly. As such, we understand the urgency when something goes awry with your cooling system. You want help and you want it fast! So, you choose the most immediately available HVAC company and give them a call.
What if we told you that was the wrong approach?
Choosing Wrong Can Cost You More
Choosing the wrong HVAC company can end up costing you more in finances and convenience, given that you may have to call an alternative professional anyway to fix anything that an amateur messes up. Whether you do need just a "quick repair" or you have a feeling it's time for an air conditioner upgrade, we have all the information you need on how to choose—without rushing into it—the right HVAC contractor for the job.
First, Look at Their Experience Level
Homeowners are often quick to pick up the phone and call in just any "handyman," even if they have minimal experience in mechanical and electrical work, to service their air conditioner. It's easy, and cheap, right?
But, you get what you pay for! Complex cooling and heating equipment is difficult for even a skilled general handyman to manage, and you'll likely end up needing to call in an experience pro anyway, if and when something goes wrong.
Additionally, safety matters! The only type of HVAC technician who can truly ensure safety is the one who has been comprehensively trained by a qualified contractor. You can rely on this when you work with an experienced pro, like any of our team members.
Next, Do They Offer Comprehensive HVAC Services?
There are a number of HVAC pros out there who specialize in one thing or the other—sales, or service. This is fine in some cases, we guess. But there are significant benefits to choosing a contractor who offers both.
Without a contractor who offers both installation and repair, you would wind up with a quality system, but poor installation or maintenance from another company that doesn't help your air conditioner hold up its performance (and therefore find yourself facing inefficient air conditioner use).
Many problems can develop from an improperly installed or serviced air conditioner. There are a few different symptoms that could show up with multiple causes. For example, short-cycling can happen if your AC system was incorrectly sized when installed, or it could be the sign of an electrical problem. A company without specialty in all these areas isn't going to be able to help you make an informed decision about what to do next.
Contact the leading HVAC company in Lawrenceville, GA—Wall Heating & Air Conditioning, Inc.