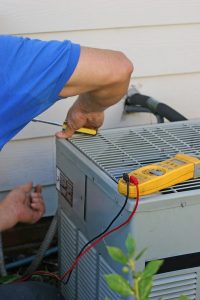 The short answer to this is "no." It's important that you have maintenance done for your air conditioner every year (or every 6 months, in the case of a heat pump) but frequency and consistency are more important than what time of the year you have it done.
The next most common question we get about maintenance is "Is it really worth it? What does this service actually do for my air conditioner, anyway?"
We totally understand the inquiry. So, we want to share what actually happens during a maintenance tune-up. This way you can feel informed and confident that your investment in maintenance is a good one.
Check Refrigerant Levels: There's a fairly common misconception among homeowners that refrigerant is something that "runs out" like gasoline from a car. On the contrary, you rair conditioner is supplied with enough refrigerant upon installation that it should ideally last its entire lifespan. But if you have a refrigerant leak then the levels will go down—and that's what our pros check for during maintenance. Since this fluid is essential to the functionality of your air conditioner, without it the compressor can fail—leading to premature and costly system replacement.
Lubricate Motors and Other Moving Parts: Over the course of the season, dust settles on the interior components of your AC, creating friction for the motors, and they lose lubrication. Our techs will be able to alleviate this extra strain by keeping the motors in good shape.
Tighten Electrical Connections: Electrical problems are among the most common AC issues that can cripple them. By tightening any loose connections, we'll be able to prevent future problems and safety issues.
Clean Vital Components: This includes the evaporator coil, condensate pan, and drain. The coil picks up grime that can prevent it from absorbing heat like it's meant to, and if the condensate pan gets debris it in it can not only cause leakage, but it can encourage the growth of algae, mold, and mildew. This can make you sick and threaten the integrity of your property. Additionally, if the pan overflows, it can cause the AC to switch off as a safety feature (you don't want water and electricity mixing, after all!)
Recalibrate the Thermostat: Your thermostat is essentially the brain of your air conditioner—it is essential to the proper operation of your AC system. If the thermostat is miscalibrated it may not correctly read the temperature and cause efficiency issues.
Maintenance does many things for your air conditioner. Because it's cleaner and loose parts are adjusted, it will be able to perform better—more efficiently. This higher efficiency will reflect in your energy bills. It's estimated that an air conditioner that is regularly tuned-up will maintain 95% of its original efficiency throughout its lifespan.
In addition, maintenance allows our technicians to spot the need for AC repairs right away. This means you can get them on your schedule now rather than waiting for them to grow into much bigger, costlier emergencies later on. Maintenance can help you avoid up to 85% of the repair needs your air conditioner may otherwise face over the course of its lifespan otherwise.
When you want quality air conditioning service in Snellville, GA, look no further than Wall Heating & Air Conditioning, Inc. Contact us today!