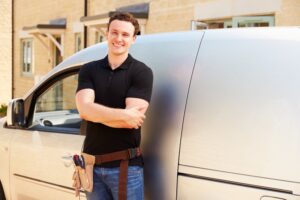 When it comes to making sure your home is a comfortable, healthy, an safe place to be, you want to ensure that the people you're trusting to service that home are reputable, have great integrity, and will get the job done right the first time, right? There's no exception when it comes to HVAC installation, repair, or maintenance.
But, just because someone in your community calls themselves an HVAC professional and is affordable doesn't necessarily mean they are the right professional for you and your specific needs. It's vital that you do your homeowner, and choose an HVAC contractor that's the best fit for you and your needs. We've provided some guidelines below to help you do just that.
Check out Their Licensing and Insurance Info
It's a good idea to ask any service professional you hire for their credentials. You shouldn't just assume that because they wear a uniform and drive a nice looking van that they have what they need to service your HVAC systems as effectively as possible.
It's also not a bad idea to double check with your local licensing office to confirm that the company you decide on has a current license, and also verify that their insurance policy is up-to-date by contacting the insurance company and finding out what's covered.
All HVAC companies, of course, try to avoid incidents as best as possible, but they still do happen on occasion. What you want to make sure of is that you won't be held financially liable if an HVAC technician is injured while on your property. Depending on the nature of the incident, the HVAC company should instead be held liable.
Next, Consider Their Level of Training
Ask your potential HVAC technician about their level of training. Most contractors require some level of technical degree from a vocational school for their employees, and these programs tend to focus on the latest advancements in HVAC technology, in addition to EPA regulations, and standard repairs and maintenance.
It's also not a bad idea to ask about their familiarity with your specific HVAC systems. If you are trying to upgrade heating or cooling system , you'll want to make sure that your techs are qualified to service that particular system.
Ask if They Provide Estimates
Any truly great HVAC professional will be more than happy to provide you with at least a general idea of what their work will cost before they begin the job. This way, you'll know what you can expect and there will not be any huge surprises later on down the road. But remember, this goes beyond a simple verbal agreement—you'll want to get the estimate in writing (and make sure it's signed by a representative from their company).
Another factor to keep in mind is that while it isn't rare to require a deposit on large projects (like a commercial installation or repair, for example), your HVAC professional should never ask you to pay for the whole job upfront. This wouldn't offer you any guarantee on the quality of their work.
Check Out Their Reviews
If there's anything that tells you what you can expect from a service company, it's what other customers are saying about them. What do their reviews look like, are mostly positive? If a company has a good reputation in your community, it will be reflected here.
To get in touch with a trusted HVAC company in Duluth, GA, contact Wall Heating & Air Conditioning, Inc. today!