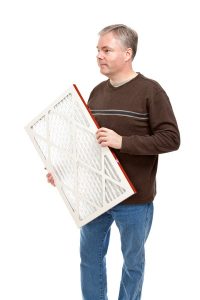 Whether we're talking about your forced-air cooling system, furnace, or heat pump, you need to change your air filter. This is an important part of maintaining your HVAC system and should be done every 1-3 months depending on the type of air filter and the level of contaminants in your home.
But, why? More on that below!
In the meantime, keep in mind that professional maintenance should always be done by a trained and licensed technician. We encourage and urge you to handle the air filter on your own, and even keep the area around your outdoor unit clear of debris. But a thorough inspection, comprehensive cleaning, and any component adjustments should only ever be done by trained professionals.
We digress, though—why is it so important that you change your air filter between maintenance sessions?