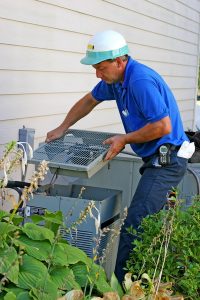 With springtime comes spring cleaning projects—do you have any in mind for your home? Is your air conditioner included in your plans?
We're guessing not, but it certainly should be! Your air conditioner can only work as effectively as it's meant to if it is properly cared for. This means, first off, investing in AC maintenance. Professional maintenance is vital to the longevity of your cooling system as well as its continued reliable performance. There are a few maintenance tasks you can do on your own, though. And the best time to prep your AC for spring is now, before temperatures start getting very much warmer.
Clean the Space around Your Outdoor Unit
The outdoor compressor unit of your air conditioner is exposed to a lot throughout the year. And when you aren't using the air conditioner, it's easy to ignore this. But before you start up your air conditioner for the season, it's a good idea to check around this part of your air conditioner and clean up any leaves, twigs, lawn clippings, and any other debris on or around it.
This will help prevent airflow issues in addition to other problems that can come from debris getting inside your system.
Change Your Air Filter
Neglecting your air filter can actually do quite a bit of harm to your cooling system. Many homeowners assume that the air filter is in place to protect their indoor air quality, but this is not its intended purpose. It's actually there to protect the inside of the air conditioner itself from dirt, dust, and other debris that can impact its performance.
When the air filter gets too clogged up, it can stop air from flowing through as effectively as it is supposed to. This lack of airflow impacts your cooling system in a few ways:
Your home feels less comfortable.
Your system's energy efficiency decreases, since the fan has to run for longer, costing you more in monthly bills.
The air conditioner struggles to run, increasing wear and tear and leading to potential premature breakdown.
You should be changing your air filter ever 1-3 months, especially since in most cases, this air filter is shared between the central air conditioner and furnace, meaning it's capturing particles and contaminants on nearly a daily basis.
What Happens During Professional Maintenance?
During professional air conditioning maintenance, our technicians will certainly check your air filter for you, but it's more than just that. We will thoroughly inspect the system inside and out. We'll check for any signs of a problem, and make appropriate adjustments as well as recommendations for repairs. Getting these follow-up repairs on your schedule right away reduces the chance that you'll run into a bigger emergency later on down the line.
We'll also clean your unit—clearing up debris on the outside is one thing, but our pros will clean the coils that are responsible for the release of heat as it dissipates from refrigerant condensing in the coils. Overall, this helps your air conditioner to run more effectively and efficiently, ultimately saving you money on your energy bills.
For exceptional Suwanee, GA HVAC service, contact Wall Heating & Air Conditioning today.