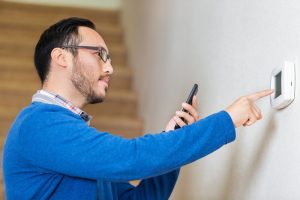 The short answer to this is, "no." No matter what type of thermostat you have and how professionally installed it is, it cannot directly prevent furnace problems. What the right thermostat can do, however, is help you use your furnace more efficiently, preventing high energy costs—which is just as important!
The quality of your thermostat and how you use it plays a huge role in saving energy. This is true not only now, in the winter time, but also when temperatures warm up in the summer. Read on to learn more about the relationship between your heating, and cooling, system and the thermostat that contols it, while learning what your thermostat options are, should you decide to upgrade.
You Thermostat and Its Impact On Your HVAC Systems
Your thermostat serves as the brain of your heating and cooling systems, enabling you to choose when the system turns on, and the exact temperature of your home during various parts of the day. Many homeowners have called us for heater or air conditioning repairs when what is actually happening is that a thermostat problem is causing their home comfort system to act up. The components of your heater may be just fine, but they aren't being properly controlled by your thermostat.
And a thermostat issue, understandably, impacts your ability to control your heater, thust forcing you to use it inefficiently. We want to help you save both money and hassle, so if you suspect that you do have a thermostat problem, or want to look into your thermostat upgrade options, do be sure to contact our team.
Thermostat Malfunctions: What They Mean
There are a variety of things that can go wrong when your thermostat malfunctions. For example, if you cannot raise the temperature of your heater in the middle of a cold night, it might never cycle on as you need it to.
One of the biggest issues with a malfunctioning thermostat is short-cycling. This is when your HVAC system shuts on and off rapidly, typically running just a few minutes at a time. The problem with this is that it causes your unit to work too hard in order to cool or heat your living space, leading to premature repairs and potentially even premature replacement.
Consider a Thermostat Upgrade
In some cases, your thermostat might have been set incorrectly (be sure to check this, before all else) or even miscalibrated. Sometimes a simple adjustment or repair can do the trick. But in many cases, you might need to replace your thermostat altogether. When you think about it, a thermostat replacement is going to be the most affordable upgrade you can make when it comes to HVAC replacements!
The best thing about a thermostat upgrade is how much money it saves you. Even an upgrade from a basic manual to a digital thermostat gives you more precise control. Taking that a step further with a programmable thermostat allows you more freedom. And then there is the smart thermostat, also called the WiFi thermostat. This component learns from your heating and cooling practices, and adjusts itself accordingly during certain times of the day, even when you are sleeping or away from the home.
Whether you need professional furnace repair in Suwanee, GA or any other type of HVAC service, Wall Heating & Air Conditioning is the company to call. Contact us today!