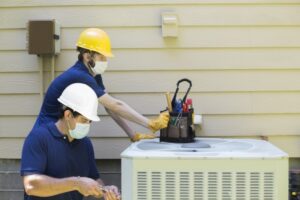 If you've followed our blog posts for a while now, then you might see that we mention maintenance a lot. There's a reason for this—it's an important service! Homeowners often think this is a "luxury" service that only people who can really afford something extra buy. But actually, maintenance is a necessity, and can save you money in the long run.
First, professional maintenance allows our technicians to locate small problems with your air conditioner before they grow into much bigger emergency repair needs. This helps your air conditioner perform better and last longer. This is great news for your budget, right? But still, you might be wondering what actually happens during maintenance? Should it really only ever be done by professionals? Read on to find out.
The Power of Professional Maintenance
There is one maintenance task that you can and should do on your own when it comes to your air conditioner. That task is cleaning or changing the air filter. There's a fairly common misconception that the air filter that comes standard in the central air conditioner is in place to protect the indoor air quality in a home. This is not the case, though!
That air filter is actually in place to protect the cooling system itself from being pummeled with dirt, dust, and other debris. You should be changing this out every 1-3 months depending on the type of filter and the level of contaminants in your home.
Beyond this task though, maintenance should only ever be conducted by the pros. Here's some of what the pros do!
We check the condenser and evaporator coils to make sure they're unobstructed, clean, and able to absorb and release heat.
We check the refrigerant level. If your air conditioner is losing refrigerant, it means there is a leak that must be repaired.
We check all the electrical connections and tighten them where necessary.
We clean the condensate pan and drain so that moisture from the evaporator coils doesn't overflow and cause system and property issues.
We clean and lubricate motors for the fan and compressor to relieve mechanical stress that can lead to burnout.
We check that the thermostat is correctly reading the temperature in the home, and recalibrate the device if it's not.
We do check the air filter, replacing or cleaning it if necessary (but remember, this is definitely a task you should stay on top of for optimal AC efficiency).
Why Professional Maintenance Is So Important
When you don't have trained and experienced professionals looking after your air conditioner year after year, it could run into problems, such as:
Inefficient Operation: Every year your air conditioner goes without maintenance, it loses 5% of its efficiency. With maintenance, it retains up to 95% of its original efficiency.
Increased Repair Needs: During maintenance, we check for small repair needs. We alert you to them so you can get them scheduled right away. This prevents them from growing into much bigger, emergency problems.
Shortened Lifespan: A cooling system that isn't properly maintained throughout the years can fail a lot earlier than it otherwise would have.
Contact Wall Heating & Air Conditioning, Inc. when you want a trustworthy HVAC company in Snellville, GA.