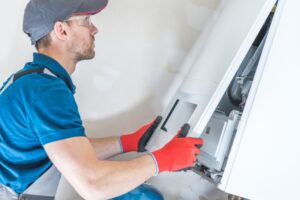 With the heat of summer just passing, and the beautiful, mild autumn beckoning you to spend time out of doors, you might not want to think about winter yet. But no matter how hard you try to ignore it, winter always gets here eventually, and you don't want it to arrive before you're prepared for it.
Scheduling a fall inspection for your heater should be at the top of your autumn to-do list. Here are seven reasons why it's not only important, it's also best to do earlier in the season.
1: Safety
Although a propane or natural gas heating system is generally quite safe, any appliance that combusts fuel does come with some risk of fuel leaking or carbon monoxide getting released into your home. When your heater hasn't been maintained, you have no way of knowing if a hazard is developing. A qualified technician in heater maintenance in Suwanee, GA can put your mind at ease, ensuring that you can heat your home without fear of health risks.
2: Scheduling
If you make an appointment earlier than you think you need to, you'll have more freedom of scheduling, so you can fit this important service into your busy fall calendar. Then, if another appointment is required due to significant repair needs, you'll have time for that as well before you need to crank up the heat for winter.
3: Reliability
The last thing you want is to try to start your heater on the first cold night and find that it won't work at all! And even if that worst-case scenario doesn't happen to you, when your heater is properly maintained, it will decrease repair needs throughout the season and the rest of your heater's lifetime.
4: Longevity
Speaking of your heater's lifetime, it should last fifteen years or more if it has annual maintenance. If it's neglected and left to deteriorate, however, that lifetime can be much shorter. Replacing your heater is expensive and inconvenient, so it's best avoided for as long as possible.
5: Efficiency
A well-maintained heater can keep your house perfectly cozy with less energy usage than a heater that is struggling. When minor problems aren't being addressed, your heater tries harder and harder to do its job, consuming more fuel than it should. Regular maintenance can reduce your fuel usage and thus your impact on the Earth.
6: Money
Yes, having a technician maintain your heater does cost money. However, it will also save you money. If you can reduce your utility bills, avoid extensive repairs, and extend the life of your heater, it's absolutely worth the investment.
7: Peace of Mind
Once your heater maintenance is dealt with, you can relax and enjoy the beautiful autumn weather and all the festivities and celebrations of the season. You'll be secure in the knowledge that when you need to retreat from chilly breezes as the seasons change again, your heater will make your home the cozy sanctuary you deserve.
Reach out to Wall Heating & Air Conditioning, Inc. to schedule heating maintenance today.