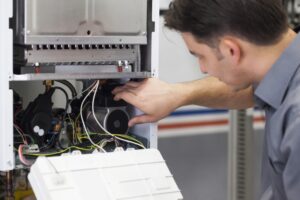 Most of the time, we only think about our heating systems when they're not working. As long as you are cozy during cold weather, it's easy to ignore your furnace. But wouldn't it be better to avoid having your heater break down entirely?
There are two things you can do to avoid having your heater stop working in the winter. First, take to heart a couple of tips on how to decrease the likelihood of a furnace problem. Then, pay attention to some particular clues of problems starting to brew. This way, you can get them repaired before they become severe enough that you end up with a freezing-cold house.
First, Prevent Problems
Regular Maintenance: To ensure that your furnace is starting the heating season off in the best possible shape, schedule maintenance in the fall. Once per year is generally sufficient, and it's ideal to do it as soon as possible if you haven't yet this year. Your technician can catch small problems before they worsen, make sure there are no safety hazards, and even increase the efficiency of your furnace, saving you money on your utility bills.
Filter Changes: While almost all maintenance and repair of heating systems should be done by highly-trained professionals, there is one job that you should be doing: filter changes. While some filters are disposable and can simply be swapped out, others can be cleaned and put back in. If you're not sure how to do this, we're happy to help you figure it out. Filters should be changed every 1-3 months while your heater is in use, and having a clean filter increases efficiency and decreases wear and tear on your system.
Second, Catch Problems Early
Noises: Listen to the regular sounds your heater makes. If it makes any new noises, such as banging, clattering, or screeching, schedule furnace service in Dacula, GA.
Uneven Heating: Some rooms being hotter or colder than others, or the temperature dropping too low before heating up again, are signs that your furnace needs to be repaired.
Insufficient Heating: Your furnace should keep your whole home cozy even during the coldest days of the year. If it doesn't, you deserve better. A repair could make all the difference.
Poor Air Quality: Turning on the heat shouldn't mean turning on a blast of dust. If your hot air comes with too many particles, there may be a leak in your ductwork allowing dusty air to be drawn from somewhere like your attic and blown out into your home. Ducts can be resealed by a professional, so you don't have to breathe all that in.
Dry Air Hazards: Of course, winter air is simply drier than summer air. To some degree, the break from the humidity can be a relief! But if you find that you're getting constant static shocks, or your hair, nails, and skin are crackly and brittle, your heater may actually be the cause of the problem.
Our team is happy to help resolve your heating problems before they become urgent, expensive emergencies.

Reach out to Wall Heating & Air Conditioning, Inc. to schedule heating repair today.