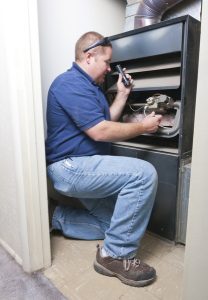 Okay, it was still in the 90s last week… so why, exactly, are we talking about heating?
Because preparing for the heating season is the best way to ensure you get through it as comfortably as possible, without any costly surprises from your furnace or heating system.
One of the best things you can do for both your home and budget is to ensure your heater receives proper maintenance. Keep reading to see why it's so important for the health of your system and for your comfort.
The Importance of Professional Heating Maintenance
Most of the problems that can impact a heating system are the type of thing the average homeowners wouldn't even notice until it's already caused a major issue in your household. This is the main reason you want to invest in routine preventive maintenance—so you don't have to wait for symptoms of a problem to show up before addressing it. The best way to deal with a problem is to stop it from happening to begin with!
Preventive heating maintenance gives our technicians the chance to comprehensively inspect your entire heating system, and isolate any small problem that might be developing. These problems can be repairs before they have the opportunity to develop into much larger and more costly emergencies. We also thoroughly clean the system and adjust components that might have become loose or gotten bent.
Maintenance can reduce the odds of a serious problem damaging your heater by up to 90%, and increase the system's energy efficiency by up to 40%. Doing this consistently can save you thousands of dollars in repair costs over the life of your system. Another statistic for you—maintenance can help you avoid up to 85% of the repairs a heater may ever need in its lifespan! To get the most out of your preventive maintenance, though, you want to make sure you schedule it once a year! Or, twice a year if you have a year-round heat pump system.
Why We Encourage Fall Heating Maintenance
In the HVAC industry, we typically recommend that you have preventive heating maintenance done in the fall. The reason this is the best time is because it ensures that your heating system is in the best shape possible before it's subjected to the stress of winter when it's used on a daily basis. Additionally, fall maintenance enables you to take immediate advantage of the boost in efficiency that you get from the tune-up.
Of course, it's better to schedule your heating maintenance later in the season than to never have it done at all. So, if you come across this blog post and it's already winter, but you haven't had maintenance done, give us a call! Skipping maintenance is never a good idea, and while it's more convenient to have it done in the fall, and you won't get quite as much mileage out of the efficiency bump, you'll still be able to make sure that your heating system is in good shape for the remaining months that you need it.
For expert HVAC service in Suwanee, GA, contact Wall Heating & Air Conditioning, Inc. today!