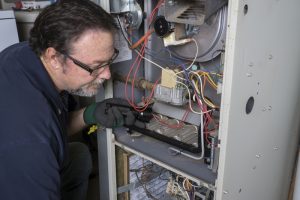 Fall is officially here and even though our temperatures haven't quite cooled down enough for consistent heater use, now is the time to think about whether or not you're well prepared for when temperatures do drop. Fortunately, you have plenty of time to arrange for routine maintenance for your residential heater. This is a job that requires the professional touch of trained and experienced HVAC professionals, which is what we are here for!
Don't delay scheduling your heating maintenance inspection and tune-up–make sure your heating system is ready to go when the drop in temperatures does occur, no matter how brief or mild our winters may be in comparison to other parts of the country. Read on to learn more about this service.
The Benefits of Routine Heating Maintenance
We really want to stress the word "routine" here. Heating maintenance should be arranged every year for furnaces and more often than that for heat pump systems. While some maintenance is better than no maintenance, to truly get the most out of your system you should adhere to this schedule.
Here are some of the biggest benefits of doing so!
Safer System Operation: A gas-powered heater is never going to be inherently dangerous. Today's systems are built with a number of safety features to keep you out of harm's way. However, without maintenance, you risk missing small repair needs that could lead to bigger emergencies, such as a cracked heat exchanger leaking dangerous carbon monoxide into your home. Don't take the risk! Schedule your heating maintenance today.
Better Energy Efficiency: A heater, no matter what kind it is, will start to lose its energy efficiency if it goes too long without maintenance. The dro can end up being pretty steep in a few years, resulting in the system draining much more power than it should just to do its job.
Fewer Repair Needs: Did you know that furnace maintenance can help prevent up to 85% of the repair needs it may ever need in its lifespan? This is because maintenance allows us to thoroughly inspect your system, making adjustments and checking for small repair needs before they even have a chance to turn into something worse.
Longer Lifespan: Speaking of that system lifespan, a well-maintained heater will simply last longer. Maintenance helps it perform more powerfully, more efficiently, and cleaner, all of which contributes to a longer system lifespan. The average air conditioner can last 10-15 years, whereas one that skips maintenance may only last half of that.
Ask About Our Maintenance Program
Ask about our Club Maintenance Plan! This affords our customers a number of benefits, including:
Priority service within 24 hours
Two FREE precision tune-ups
20% discounts on repairs***
Discounted Diagnostic Fee
5% discount on equipment replacement
FREE standard filter replacements
As you can see, maintenance not only helps your system last longer and reduces repairs, but it helps you pay less to even use your HVAC system at all. Not only can you prevent repair needs, but when you do need small repairs you can get them at a discounted price. Reach out to our team to learn more!
For professional Alpharetta, GA HVAC service, contact Wall Heating & Air Conditioning, Inc. today!