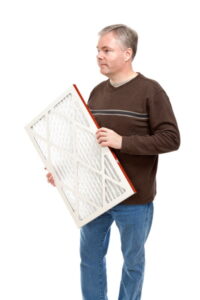 The short answer to this is, "yes."
No, it's not going to make your furnace explode or anything, but a dirty air filter will certainly have a negative impact on the furnace's performance and your overall comfort.
Many homeowners think that a dirty air filter is a problem because of their indoor air quality. This is due to a pretty common misconception—that the furnace air filter is in place to protect the indoor air quality. It's actual purpose is something completely different.
Sure, your furnace air filter won't hurt your indoor air quality, but their intended purpose is actually to protect the interior components of your air conditioner and heating system. Read on to learn more, and to learn how a dirty air filter will impact your home and its comfort, including the life of your furnace.