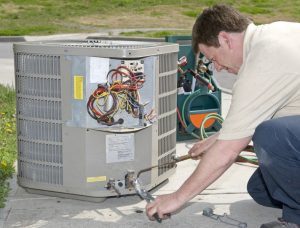 In the absence of a totally unrecoverable air conditioner breakdown, no, it's never too late to tune of your air conditioner. And it's already the official start of summer, so if you haven't done so yet, now is the time!
"But can't I just skip it just this one year? It's already summer and my AC is working fine!"
The truth is, HVAC maintenance is one of the most important, if not the most important of AC services in Lawrenceville, GA. It keeps your system clean, adjusted, and gives you the peace of mind that it's been thoroughly checked over by a pro. Maintenance tune-ups are not a luxury service—maintenance should be done on an annual basis (or twice a year, if you have a heat pump system) even if that means having it done when summer has already started.
If we still haven't convinced you of the importance of your annual tune-up, consider this:
Our Summers Are Prohibitively Hot and Humid
The climate here in Lawrenceville gives us cool winters, for sure. However, it's warm and humid for much of the year, and even when winter does come around, heat waves can still surprise us. Your maintenance tune-ups ensure that your air conditioner is always ready to deal with hot weather, no matter when it strikes or how high temperatures soar.
Skipping Maintenance Leaves You Paying Higher Monthly Bills
It's true. It's estimated that each year a cooling system goes without system maintenance, it loses on average 5% of its efficiency, and that drop will grow exponentially over the years. You'll pay more to run your air conditioner even though you aren't benefiting from its comfort at all.
You Can Avoid a Sudden Breakdown
The most immediate reason for investing in routine maintenance is to prevent your cooling system from suddenly shutting down on you when you need it the most—in the middle of a blazing hot summer day. There are plenty of those on their way this summer, and you want your AC system to get through each one of them.
Prevent Frequent and Unnecessary Repairs
Do you really want to spend all your extra money this summer on repairing your air conditioner, when you could be spending it on leisure items and activities? Just a simple precaution of a maintenance session, no matter when you have it done, manages about 80% of the repairs an air conditioner might need.
Sign Up for Our Maintenance Program!
Ask us about our savings plan. With a maintenance program like this, you get priority HVAC service, in addition to the peace of mind that you'll never accidentally skip a tune-up in the busyness of life—we'll contact you to schedule it!
As a Club Member, you'll also receive repair and equipment replacement discounts, and a host of other benefits such as a discounted diagnostic fee and free standard air filter replacements.
Wall Heating & Air Conditioning, Inc. is your trusted resource for HVAC services. Contact us today and learn more about our maintenance program.