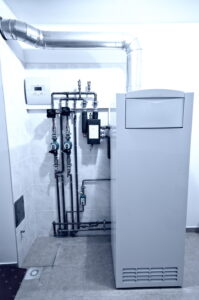 When your gas furnace doesn't come on during a cold winter day, that's a problem. It may be a big problem. Or it could be a small oversight. You can depend on our expert technicians for the HVAC service in Lawrenceville, GA to restore your furnace to working condition. But before you call us, there are a few basic troubleshooting steps to go through to make sure you don't have a minor issue you can correct yourself.
Please note: we're not advocating for you to attempt a "do-it-yourself" furnace repair! Troubleshooting doesn't involve getting out the toolkit and opening the furnace panel. Don't go beyond the simple steps listed below to see what's wrong with your furnace. You only want experienced pros like us to service a gas-powered heating system. We're licensed and insured, so you can expect the best and safest repair help from us.
Check the thermostat settings
Yes, this sounds like the most basic troubleshooting step, but it's so basic that people often overlook it, especially at the start of the colder weather. If you have a programmable thermostat, it may still have its summer settings, which will prevent the furnace from turning on. Someone else in the house may have changed the settings without you knowing about it. Make sure you know how to adjust the thermostat and put in the correct temperature settings for the change in seasons.
Reset tripped circuit breakers
A furnace can trip a circuit breaker in the electrical panel. Yes, a gas furnace. A gas furnace relies on a powerful blower fan to move air through it and then into the ventilation system, and the motor for this fan can overload a circuit breaker, cutting off power to the furnace and preventing the electronic ignition system from lighting the burners. Reset any tripped breakers and try to furnace again. Don't keep using the furnace if the breaker continues to trip.
Reset the furnace switch
Furnaces have their own dedicated breaker switch, sometimes called the furnace disconnect switch. This is useful for shutting down furnace power for the summer season and can also be used in emergencies. It's located near the furnace cabinet, often on an adjacent wall. If you've just started trying to use the furnace for the season, you may have forgotten to flip the switch back to "on." If it tripped on its own, reset it, but call for professional repairs if it trips again; this is a safety feature at work and something is wrong.
Change a dirty air filter
The air filter for an HVAC system will clog up over one to three months of use. A clogged filter creates all sorts of trouble, such as the furnace overheating so it trips its limit switch and shuts down. We recommend changing the filter at the beginning of the heating season for a fresh start to the winter, so this is something to do even if the furnace is otherwise working fine. 
If you've exhausted your options, we're ready to help. We offer 24/7 emergency service for when you need that furnace working against ASAP.
Call Wall Heating & Air Conditioning, Inc. when your comfort needs to be just right!