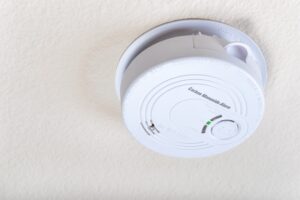 A gas furnace is an effective and reliable way to heat your home. Because of the cost of natural gas as compared to electricity, it tends to be the more affordable option, as well. And as technology has improved, gas furnace efficiency has increased significantly. But what people sometimes wonder is just how safe it is to use a gas-burning furnace to heat their home.
On the whole, the answer is a simple yes. Driving a car, an everyday thing you might not consider risky, is thousands of times more dangerous than having a gas furnace. The improvements in technology that have allowed efficiency to go up have also improved safety. And as long as you have working carbon monoxide detectors and make sure your furnace receives routine maintenance, it's perfectly safe. If you want to know exactly how to best ensure your safety when you have a gas furnace, though, you should learn about the heat exchanger.
What Is a Heat Exchanger?
Your gas furnace's heat exchanger is the most critical piece of the system in multiple ways. First, it has the critical function of transferring the heat from the combusted fuel into air that can be blown into your home, so without it, there would be no heat. Second, it is the essential component that prevents carbon monoxide from contaminating your home.
The combustion gases are contained within the completely enclosed heat exchanger, which gets very hot. The blower conducts air over and around the heat exchanger, raising the temperature of the air before it is blown through the ducts.
What Happens If the Heat Exchanger Cracks?
By the very nature of its job, a heat exchanger goes through extreme temperature fluctuations. These shifts from hot to cold mean that it expands and contracts constantly, and over the course of many years, this can start to degrade the metal. A crack in your heat exchanger could be extremely small, but when heated and expanded, it could open wide enough to allow carbon monoxide to leak out. Carbon monoxide is dangerous to breathe and can even be fatal.
How Can I Tell If My Heat Exchanger Is Cracked?
There are several things that can help you keep track of potential heat exchanger problems.
Age: A heat exchanger almost never cracks unless a furnace is over ten years of age, and it's even more likely for a furnace to be more than fifteen years old when it occurs. Your maintenance technician can help you decide when it's time to consider a new furnace in Suwanee, GA.
Noise: A clicking noise from the furnace (not your ducts) when the heating cycle ends can be caused by the edges of the crack striking each other when the metal cools and contracts. Although this sound can be caused by other, less-serious issues, you should call for emergency repairs rather than take any risks.
Functionality: With a crack in the heat exchanger, there will be a decline in your furnace's ability to heat your home.
Smell:

You may notice an odor of sulfur as gasses escape from the heat exchanger. This smell is a serious sign of a health hazard. You should exit your home and call for emergency repairs.

Alarms: If your carbon monoxide detectors go off, evacuate your home immediately.
If you have any concerns about the age, safety, or functionality of your furnace, we would be happy to hear from you.
Reach out to Wall Heating & Air Conditioning, Inc. for all your heating needs.