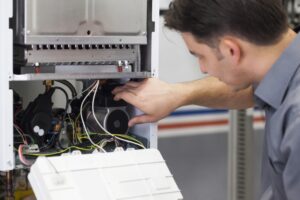 If you're a new homeowner, or are in the position of caring for a furnace for the first time, it may seem mysterious and confusing. What should you expect? What can go wrong? The truth of the matter is that furnaces are generally quite reliable and you don't need to worry too much about them. The best way to avoid furnace problems is to make sure you get preventative maintenance every year. This way, little issues won't add up, dusty mess will be cleaned before it causes trouble, and moving parts will be lubricated to reduce wear and tear.
However, there will be times when a furnace encounters a real need for repair. We'll go over a few of the things we see most often, so that if these problems do happen to your furnace, they won't catch you by surprise.
Air Filtration
This is a problem you can do something about yourself! Air filters in heating systems typically need to be changed at least every three months. The filter should be changed every month during times of heavy use or when there is an unusual amount of dust in your home (perhaps you're fostering some heavily-shedding dogs, or the road outside your home is under construction). Some air filters are disposable and should be replaced with a new one. Others can be cleaned and put right back in. Your owner's manual will have complete instructions.
A clogged air filter can cause low airflow, insufficient heat, poor air quality, and even overheating that leads to a total system shutdown. If this has occurred, after cleaning the filter, start your furnace and wait a few minutes to make sure it kicks on.
Thermostats
Sometimes, when your furnace isn't giving you the heat you need, there's nothing actually wrong with the furnace. If your thermostat is sending the wrong information, your furnace thinks its doing exactly what you're asking. If your furnace isn't turning on, or it isn't heating to the desired temperature, there are a couple of things you can check. First, make sure no vacation settings that lower your home temperature have been accidentally turned on. Then, try replacing the battery for your thermostat. If you're still having problems, it's time for repair. The thermostat may need recalibrating, or some wiring may have come loose, or perhaps the problem really did originate with the furnace.
Heat Exchanger
This is a very critical piece of a gas furnace that contains the combustion gasses, allowing them to provide heat without escaping into your home. One sign of a problem with your heat exchanger is a clicking sound, so if you notice that, take action immediately. Leave your home and call for furnace repair in Alpharetta, GA. It may be that there is another cause for the sound, but it's much better to be safe than sorry. If it is your heat exchanger, deadly carbon monoxide may be leaking into your home. 
Reach out to Wall Heating & Air Conditioning, Inc. for all your heating needs.