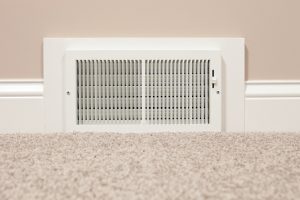 This is something we've talked about before on our blog, but it's worth bringing up again, since it's a problem we get called about each year.
When it comes to finding out what's wrong with your struggling air conditioner, you'll need the assistance of trained professional. We understand how essential it is that your broken down air conditioner be repaired right away!
Ideally, you'll have already had your maintenance session done this year, but if you're reading this blog post, you either skipped this service or didn't take care of recommended repairs. So, what should you do now? Read on to find out!
Check Your Thermostat
One of the most common repair calls our staff receives is about a cooling system that won't… well… cool. This is, of course, an intolerable problem, but it might have a simple solution! Check the thermostat.
Before you call an HVAC pro out, check to see if your air conditioning problem is actually a problem with your air conditioner, or it has to do with the thermostat settings.
There's always a chance that someone in your home may have unintentionally turned the thermostat up a few degrees—or perhaps they even did it on purpose if they have a different cooling preference than you. It might even be that your air conditioner got switched to "fan only" mode, and is only circulating air rather than actually cooling it.
Change the Air Filter
There's a fairly common misconception that the standard air filter in your HVAC system is there to protect the indoor air from allergens and other contaminants. The actual purpose of this component, however, is to protect the interior components of the air conditioner itself from this debris. And if the air filter becomes too clogged up, it won't allow the right level of airflow through, which will impact the overall performance of your air conditioner.
Call a Pro
So, what if the above-mentioned solutions do not resolve your problem? Well, then there's something more serious going on. Problems that require professional attention include:
Evaporator Coil Trouble: You might have a frozen evaporator coil. This is the component of your cooling system that draws in heat from the air in order to cool it down. Ice might seem like a normal part of the process, but trust us when we say it isn't. This ice development actually blocks the coil from absorbing heat—that is, it cannot do its job. This might happen because of low refrigerant, leaks, or even too much grime buildup on the coil.
Failed Compressor Motor: Perhaps the fan within your air conditioner's handler is working just fine. So, you hear the system running, and it's blowing out air—but that air just isn't The thing is, if the outdoor compressor isn't working due to failed capacitors or even a failed motor, then you won't receive any cooling. Our technicians can certainly handle this type of repair, but in some cases, it makes more financial sense to replace the air conditioner—at least, if it's 10-15 years old.
Broken Condenser Fan: One last potential cause of low cooling power is a broken condenser fan. The heat your air conditioner draws in cannot be released if the condenser fan is broken, and therefore a professional must repair it right away.
For trustworthy AC repair in Alpharetta, GA, contact Wall Heating & Air Conditioning, Inc.