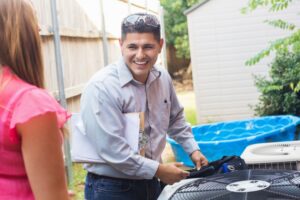 Summer is almost here! If you haven't done so already, now is the perfect time to ensure that your air conditioning system is fully ready to handle the higher temperatures. Of course, for some homeowners this might mean that it's time to invest in a new air conditioning system altogether. If this is the case for you, then you'll want to make sure that your new cooling system is the right fit for your home.
We get it, your first instinct is probably to buy the biggest, most powerful air conditioning system you can find on the market, especially if you have spent previous summers sweating bullets because your air conditioner just wasn't working as it should. However, we really encourage you to carefully consider your air conditioner purchase. Bigger isn't always better! Size and power do matter of course, but perhaps not in the way you'd think.
Keep reading as we dive into what different sizing means for your air conditioner, and why you don't want an underpowered or overpowered air conditioner in your home.