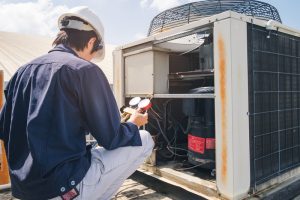 Summer temperatures are nothing to scoff at in our area. But even with temperatures soaring, if you own or manage a commercial space or a business in the area, you're likely focused on things like your customers, employees, tenants, and/or bottom line—not necessarily whether or not your commercial space is comfortable.
We get it. It's not usually something at the top of mind for any business owner or manager. However, it is important and bears mentioning. An uncomfortable commercial space can lead to a number of problems, including a potentially major business interruption.
Creating a Comfortable Commercial Space
One of the biggest factors that goes into creating a comfortable commercial space is how effectively and efficiently the commercial air conditioning system functions. Whether you were already thinking of replacing your commercial cooling system or you haven't even given it a second thought in years, if you're reading this post we highly encourage you to consider the installation of new rooftop AC units.
What Is a Rooftop Unit?
First, imagine this situation: you're in the middle of a busy day at work, managing some important aspect of your business operations or commercial space, when an HVAC technician barges into the space to handle a system malfunction.
A rooftop unit eliminates this scenario entirely.
Rooftop HVAC systems are made up of multiple modular units placed atop your business or commercial building. It may seem counterintuitive to have them installed here—after all, they are exposed to the blazing hot summers that we experience. However, commercial systems are built to handle these elements and provide various tangible benefits as well.
Our extensively trained and experienced commercial HVAC professionals can reach these system for whatever work needs to be done, without interrupting your business at all. This allows you to move forward with your busy day while gaining the peace of mind that your air conditioning system problem is being fixed.
Rooftop access also means that if you ever need new rooftop units added later on, the equipment can easily be moved in or out with minimal disruption.
Use Your Business Space Effectively
No matter what type of business or commercial space you run, there is one thing that is certain—you want to make effective and efficient use of the space you have available, utilizing it for workstations, showrooms, offices, or even tenants.
If you have to add a cooling system somewhere on your property, like next to the building or even within it, then you have less space to work with. But with the rooftop unit option, you can have the AC system placed in an otherwise unused spot, eliminating the problem of space.
The rooftop placement also makes adding or subtracting units very easy, as there will be no need for our technicians to move through the commercial space itself, and you won't have to worry about making any landscaping or construction changes around your commercial space to accommodate.
For quality commercial HVAC service in Snellville, GA and more, contact Wall Heating & Air Conditioning, Inc.