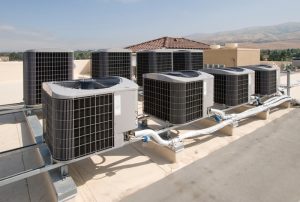 As summer quickly approaches, there are probably many things for you to focus on with your business, such as ensuring that your customers, employees, and/or tenants are satisfied, and that your building is a comfortable space.
Wait, you haven't been concerned about that last point? We get it—this isn't usually something that's at top of mind for business owners or managers, however it is important. An uncomfortable commercial space can lead to a host of problems, not the least of which is a significant business interruption.
There are a number of things you can do in your business or commercial building to ensure comfort, and one of the biggest players in this is an effective and efficient air conditioning system. Whether you were already considering replacing your soon or are curious about your options, this is the blog post for you, as rooftop units are well worth your consideration.