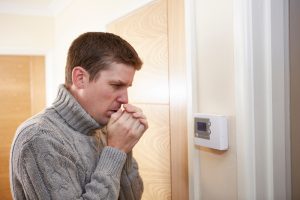 We would certainly like if we could help you avoid any heating repairs you may need during the lifespan of your heating system, but unfortunately, this is not the case. Routine heating maintenance is the best way to prevent the biggest of heater repairs, but eventually, you are going to encounter problems of some kind with your home heating system.
The best thing you can do to care for this heating system is to learn how to recognize the signs that heater repairs are needed. This way, you can get out ahead of them and schedule them ASAP, before they get any worse.
Our technicians are standing by and ready to help when you do need heating repairs, and we're even offering a special right now on diagnostics, but keep reading to learn the signs that you even have a problem with your heater.
Cool Air Blowing from the Vents
There are some symptoms you might encounter with a malfunctioning heater that can be really subtle—so subtle you might not even notice them right away. But a heater that is blowing lukewarm or cold air out of its vents is pretty obviously having issues.
You may be dealing with a fuel combustion issue, or maybe even a leak in the air ducts to a particular area of your home. Whatever the case may be, you need to have your system repaired in order to ensure it is blowing efficiently heated air again ASAP.
Increased Heating Bills
So, this is one of those "subtle" signs we were just talking about. Sometimes, you aren't going to notice a drop off in your system's heating output right away. This is why it's imperative that you keep a close eye on how much you are paying to heat your home.
Of course, the colder it is, the more you're going to use your heater and naturally, the more you're going to pay to heat your household. That makes sense, but you should have a general idea of your average heating costs. If you notice a serious spike in bills without a clear reason, it could be the result of a problem rendering your system less efficient than it should be.
Burning Smells
When you run your heater for the first time during the year, you'll often smell a dusty odor. This makes sense, as your heater has been off for months and some dust needs to burn off the components. However, if you continually smell burning coming from your heater, then you need to get in contact with a pro right away.
These symptoms suggest something is seriously wrong with your heating system, and the problem can be putting your safety in jeopardy.
Short Cycling
Short cycling describes the process of a heater shutting off and turning back on in rapid succession. This is incredibly inefficient and will end up wearing your heater down a lot faster than it normally would have broken down over the years. It also makes your heater work too hard to do its job, which costs you on your monthly bills.
There are a number of reasons your system may be short cycling. If you discover this issue or any of the above-mentioned problems, the best next step for you to take is to call our pros.
For a limited time, you can save 40% or more on diagnostics for your malfunctioning heater when you schedule repairs with Wall Heating & Air Conditioning, Inc. Contact us today!