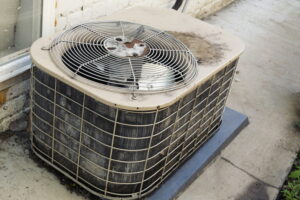 Ahhh, the relief of the cooling autumn air. It's even more of a relief if your air conditioner didn't cope with this summer's heat quite as well as it used to. Autumn is the perfect time to evaluate how well your AC performed and consider what you need to do to ensure that you'll have a cool and comfortable home next summer.
Should you try to keep your air conditioner running for another year? Or is it time to get a new one? We've got some tips to help you make that decision.
Factors to Weigh
A big question like whether to get a new air conditioner might seem very broad and vague, but it can be broken down by looking at a handful of specific factors.
Age: A well-maintained air conditioner will generally last at least ten years, sometimes upwards of twelve. Toward the end of that lifespan, there will be more repair needs, and the unit will start to decline in efficiency, using more energy to get the same job done.
Maintenance: When we say "a well-maintained air conditioner," we mean one that has been maintained every year. With only occasional maintenance, an air conditioner will age more quickly, and without any maintenance, it may only last five to seven years.
Frequency of Repairs: It's not a good sign if your air conditioner has been requiring repair every summer in order to function. This will only get worse as time goes on. Infrequent repair needs, on the other hand, would be a good sign.
Cost of Repair: Does your air conditioner require repair at this point? How much will that repair cost? While an inexpensive repair to keep your AC running for another year is reasonable, a costly repair to a system that's still going to struggle is a waste of money.
The 5,000 Rule
One way to look at the intersection of these factors is the 5,000 rule. If your air conditioner needs to be repaired, multiply the age of the air conditioner by the amount that the repair would cost. If the result is under 5,000, get AC repair in Lawrenceville, GA. If the result is over 5,000, you should not keep investing in your old system. It's time to look into replacement. 
For example, let's say you have an eight-year-old air conditioner. It's not new, but as long as it's been regularly maintained, it's not at the end of its life, either. A $400 repair (8 x 400 = 3,200) would be a perfectly reasonable investment. An $800 repair (8 x 800 = 6,400) would not be.
Your Replacement Options
If you do come to the determination that AC replacement is the best choice, you might be delighted to know just how many options there are these days. In addition to different home cooling choices like heat pumps and ductless systems, traditional central AC units have come a long way since you bought that old unit, with major advances in efficiency.
Whether you need to schedule repair or you want to learn about your replacement options, we'd love to hear from you.
Reach out to Wall Heating & Air Conditioning, Inc. to make an appointment.