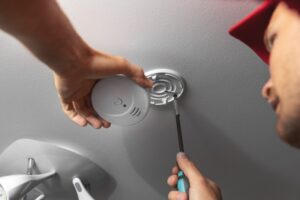 How's your gas furnace doing? Will it keep you cozy this winter? More importantly, will it keep you safe? We've got some tips about your gas furnace. Follow this checklist to help ensure that you and your family stay safe and warm this winter. 
1: Check Your Detectors
The start of heating season is the perfect time to double-check all of your smoke and carbon monoxide detectors. Many are hardwired these days, but you'll still need to put fresh batteries in to make sure that even in the event of a power outage, you'll be warned if there's carbon monoxide in your air.
2: Change Your Air Filter
Your furnace has an air filter that prevents dust and grit from getting inside the workings of the furnace itself and causing friction and wear and tear. This filter needs to be changed every month during the period when the furnace is used daily. Change it every three months if your furnace is only used occasionally.
If the filter doesn't get changed, so much dust can build up that it's essentially wearing a sweater. This means it's hard for the furnace to pull air through. Without proper airflow, the furnace can easily overheat.
3: Schedule Maintenance
During heating maintenance, your technician's top priority is safety. Gas lines and connections, the ignition system or pilot light, and the integrity of your heat exchanger will all be checked to make sure you won't be risking a gas leak or carbon monoxide poisoning. Maintenance will also help your furnace to be more efficient and effective and to be less likely to require repairs in the coming season.
4: Don't Delay Repairs
If you do suspect that something is wrong, get furnace repair in Snellville, GA right away. Often, a problem is easy to resolve if it's caught early, but it can quickly get worse if ignored and end up being costly and complicated to repair. It can even lead to safety issues. So if you hear odd noises, notice cold spots or fluctuating temperatures, or something just doesn't seem right, address it promptly.
5: Keep the Area Clear
Don't allow clutter to build up around your furnace. Make sure there's at least a foot, and ideally more, between your furnace and any other items. This is especially critical with flammable items like cardboard, paper, fabric, or even dryer lint and dust.
6: Pay Attention to Your Heat Exchanger
The heat exchanger is the component of your furnace that insulates the air you breathe from the combustion gasses that create your heat. Because of constant temperature fluctuations and resulting expansion and contraction, an old heat exchanger can eventually crack. This can allow carbon monoxide into your air and requires urgent professional attention.
Signs of a cracked heat exchanger include visible corrosion, soot in the furnace cabinet, a flame of any color other than blue, moisture accumulating in or under the furnace, or a clicking sound at the end of the heating cycle as the heat exchanger begins to cool down. If any of these occur, get help right away before you suffer health risks.
By taking these six steps, you'll be keeping yourself and your family safe this winter.
Reach out to Wall Heating & Air Conditioning, Inc. to make an appointment.